Need more proof that we do great work? no problem! Here's what some of our current and past customers have to say about us.
Mudroom Makeover!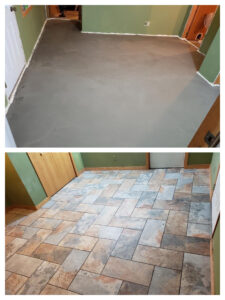 Hans did an awesome job remodeling our mudroom! When we moved into this house, the entry room was carpeted and impractical for a home in the country. We needed a room that could clean up better from dirt, but I also wanted it to look nice when you first walk into the house! Hans did really gorgeous tile work for us at a very fair price. The before picture shown is with the carpet removed. The after picture is clearly a massive improvement to the space!
Anna Batterson
H & H Construction Is An Easy Recommendation for My Clients
When you're looking for a contractor you want someone who is communicative, fair, and gets the job done. Hans excells in all of these areas and has made H and H Construction is an easy recommendation for my clients. As a real estate professional in SE Minnesota, many of my clients need to have work done in a timely manner and at a fair price. I've always been confident in H&H to take excellent care of my clients and laying out their options. We are all lucky to know such an excellent contractor who we can rely upon.
Alex Mayer
Most IMPRESSIVE CONTRACTOR you will ever hire!
I cannot say enough about this veteran & family owned company. Hans and crew have done multiple projects for me including full roof shingling on two homes, remodeling of entire basement including flooring, they also have done a bathroom flooring project and two large tree removals, Their workmanship is impressive, and always high end done in a timely fashion at a fair price. They have gone above and beyond with every job, working tirelessly to get it done efficiently while communicating throughout the entire process. They are kind, professional, and eager to work to impress high expectations. I can't wait to get them started on my next projects including new patio, new bathroom, front door/screen windows and siding replacement.
You will be extremely happy with any project this company completes for you.
Shawn Kehret
House Remodel
H&H construction is always responsive to any questions I have or need during the construction process. They keep me informed and they understand the vision we're trying to do. Anytime I make contact with them, they let me know they received it and let me know what the next steps are.
Brandon Tamsett